13:41
It's a sad day when your lunch is essentially the same as you were eating 30 years ago at school – humous sandwich and a nectarine – but that's the way the cookie (didn't) crumble.
It is definitely brightening up a little here, though David Hindle brings bad news, "According to the BBC, there is essentially zero chance of play today.
Perhaps more significant though is a forecast of lunchtime rain
tomorrow. England would need to wrap things up very quickly, assuming
they get the test started on time on Tuesday, and the ICC-imposed, test
match deathwish of "light meters" don't also destroy the game. They
will, however, achieve their aim eventually. 2xT20 innings per side
spread over the morning and afternoon will be the new
"sensible/efficient" Test format. Or maybe more radical reformers will
demand 2×100 (balls) per side?
There is hope David. This was Virat Kohli in January: "I think the intent will not be right then because then you will speak of three-day tests, I mean where do you end? Then you will speak of test cricket disappearing. I don't endorse that at all.

13:03
A last email before lunch from John Swan."These lists of greatest players always make my thoughts turn to the might-have-beens. The one that really breaks my heart in this category is Simon Jones. He battled back once from a freakish injury, performed absolutely brilliantly in the Greatest Seriestm and then tried valiantly to battle back from injury a second time. If he had stayed fit (I know, if my aunty had a etc)…"
I know -what a mental hurdle to leap and get on with the rest of your life. Time for a quick sandwich and a stretch, back (hopefully) with better news.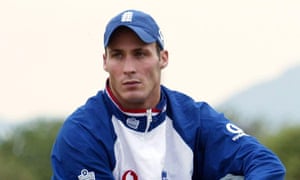 12:51
Weather update: still raining.
"Hi Tanya," Hello Neil Blackshaw in France!
"I thought I would contribute a rain adage from Cumbria, formerly known as Cumberland. Criffel, the Scottish mountain lies across the Solway. 'If you can see Criffel' the saying goes, 'it's going to rain; If you cant see Criffel, its raining already.' Such is the Lake District.

It's 30 C here and the sky cloudless – Brexit probably has something to do with it."
Nooooooo! Manchester voted Remain, can you send some Mediterranean sunshine our way poste haste? Just a little pick-me-up, you know how it is.
Over to you Paul Stubbs."I remember so many days at Old Trafford as a child with my dad who would optimistically point to the distant sky and say 'I am sure the clouds over there are a bit lighter'."
I can't even do that, though apparently the rain is due to relent in an hour or so. The ground-staff then reckon on an hour and a half/two hours to get the ground fit to play.

12:37
There's big love; then there's Broad Love.
Here's some context for Broad's amazing 499 wickets," types Gareth Owen. "If you take Kemar Roach's 201 wickets, and add Ishant Sharma's entire Test career – you're still one short of Broad's 499.
I like this new OBO maths. If you'd prefer Broad = Underwood plus Snow.
While James Austin proposes a new shibboleth. "Can I be sacrilegious enough to suggest that Broad is actually a better bowler, and greater player, than Anderson? While Jimmy is brilliant, of course, he's a relatively one dimensional bowler and as such has been able to bowl in his style throughout his career. By comparison Broad has been used in a range of roles – from swinging it full (as presently) to bowling dry and as an enforcer in the early 10's. This affected his average pretty badly – but allowed other members of the attack to prosper. Add that to his occasional devastating spells, his success over the past 4 years and his batting (bad as that has occasionally been recently) and you have a greater cricketer.
"Notably Broad has 4 years to catch up on Jimmy and has a better average abroad (and against the Aussies/SA/India who have been the powerhouses of this era generally). If he carries on bowling as he has been for the past few years for another 4 years he'll overhaul Jimmy and drop his average to the 25 range…"

12:18
"Oh, Tanya," despairs Phil Sawyer, " I thought we were friends. And then you go and forget Harold Larwood. Probably the one we'd still call the greatest if he hadn't been treated so shockingly."

and there's more…
"Surely Harold Larwood gets on that list?" pleads Nick Lewis. "Not to mention Bill's Voce and Bowes. The only chaps to ever give old Don the yips. Also, Alec Bedser, whom Bumble told us the other day has taken more test wickets at OLd Trafford than any other English bowler."
I should have known not to trust the data. In my attempt at thoroughness I looked at England's top Test wicket-takers, but only went down as far as 100 wickets. Larwood in 21 Tests, took 78 wickets at 28. Voce, 27 Tests, 98 wickets at 27; Bowes, 68 wickets at 22 in 15 Tests. Bedser, I simply missed out – 236 wickets at 24 in 51.

12:04
England's squad for the ODI series v Ireland
Eoin Morgan (Middlesex) Captain, Moeen Ali (Worcestershire), Jonny Bairstow (Yorkshire), Tom Banton (Somerset), Sam Billings (Kent), Tom Curran (Surrey), Liam Dawson (Hampshire), Joe Denly (Kent), Saqib Mahmood (Lancashire), Adil Rashid (Yorkshire), Jason Roy (Surrey), Reece Topley (Surrey), James Vince (Hampshire), David Willey (Yorkshire)
Reserves: Richard Gleeson (Lancashire), Lewis Gregory (Somerset), Liam Livingstone (Lancashire)
Four big names missing – Archer, Root, Buttler, Stokes – because they're in the Test bubble. Interesting mix of old and young and particularly pleased to see David Willey back, he had to live with the disappointment of being left out of the World Cup squad at the final hurdle last year.
Updated


11:58
The cameras flash briefly back to Old Trafford where the covers are still on and some kind of Super-Sopper is parked on the outfield. Perhaps the worst of the rain has passed.
"Christian Cummins' comments about the rain reminded me of an occasion when my sister and I took our grandsons to the local park's paddling pool on a nice hot summers' day," writes Jane Milton. "After a couple of hours black clouds were gathering in the distance and getting closer. Eventually a few rolls of thunder told us it was time to get the boys out of the water. As we got back to the car the heavens opened and a full scale summer thunderstorm ensued. My 4 year old grandson asked "why do they organise thunder storms during the day when they could do them at night". I had to agree it wasn't very considerate. Meanwhile back to cricket and hoping to see the brilliant Stuart Broad get his 500th test wicket shortly."
To counter that sweet innocence, Richard McConnell writes from a safe distance (Glasgow.)
All this rain chat reminds me of a great joke: Why does it always rain in Manchester? Because they deserve it.

11:48
Thought Monica Lewinsky's joke was good earlier this week? Andrew Thomas, take a bow.
I note from yesterday that Jimmy Anderson is quoted as saying he doesn't like bowling from his eponymous end. He should be grateful for the tribute, it is an honour unlikely to be awarded to Ian Bell.

11:45
A quibble arrives from Geoff Wignall:
As several of the fast bowlers you listed weren't particularly quick, surely SF Barnes should qualify for consideration – in which case the discussion should be over.
Smethwick's finest? You're right – I've googled him and it says medium to fast-medium. Put him in the mix. (189 wickets in 27 Tests)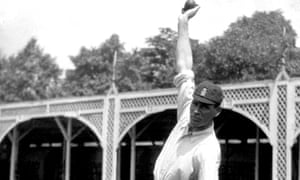 Need to know more? Try this.
Updated


11:37
Sky have given up on meandering rain chat and resorted to a documentary of England's tour of West Indies in 1990; but have OBO readers given up? Hell no!
Paul Roome is looking into his crystal ball. "Seeing as Jimmy didnt really make the big step up until he was around 32 (since when he has been out of this world) and Broady started firing on all cylinders around the same time in his career (arguably England's best bowler since 2018, the year he turned 32), what do you think the chances are of us looking back in 2025 at 5 years of bowling figures in the low 20s and reassessing SB as the equal of JA?"
Honestly? The chances must be pretty high. Broad is so determined (see his interview after being left out at the Rose Bowl), so professional, so fit and with a body that seems relatively immune to injury, and constantly striving to improve his craft. A lesson to all of us really.
Meanwhile Nick gets in touch from Northumberland, "where if anything it's even wetter than Manchester."

I don't wish to be rude about your son's maths, but surely 500 wickets would make Stuart Broad the *fourth* greatest fast bowler of all time? Unless, perhaps, your son doesn't really consider Courtney Walsh or Glenn McGrath to be fast bowlers? I think it was Ian Botham who said "Dennis Lillee is only a medium-pacer now just before the start of the 1981 Ashes series in which Lillee took his wicket five times.
Ah, yes. I *wonder if I can now use that to make him do some work in the holidays?
*no

11:17
I knew someone would be number crunching. Romeo gets there first:
"On Nasser Hussain's comment, I just had a look and by my calculations
(which could be wrong), Anderson had taken about 40 fewer wickets than
Broad has when he was the same age Broad is now, so in theory Broad
could go past him. Of course Jimmy's longevity is one of the most
special things about him."
How do you think Jimmy would take it if he was put out to pasture but Broad was allowed another Ashes tour? A couple of days ago Broad claimed they both had another four years in them.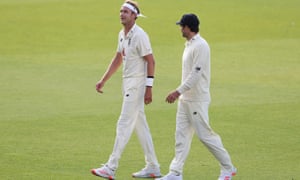 Updated


11:11
John Burton has been mulling over Nasser Hussain's comments: "If it wasn't for Jimmy Anderson, Broad would be England's greatest ever fast bowler."
"It would be interesting to watch the reaction of Trueman if he were still in the commentary box … but from a safe distance!"
In the mix? Anderson (589) and Broad, followed by Botham, Willis, Trueman. Statham, Hoggard, Caddick, Gough, Harmison, Flintoff, Snow, Fraser, Stokes, Old, DeFrietas, Dilley, Cork, Malcolm, Finn, Arnold, Lohmann, Woakes (101).
Incidentally, just down the road from Old Trafford, the sun is out…

10:59
Wow! So far £637, 204 has been raised for the Ruth Strauss foundation during this Test. If you still want to donate, you can do so here. Sky have been showing a moving segment on Ruth, the family and the foundation. Andrew Strauss is such an impressive man.

10:51
From Vienna, Christian Cummins, asks the question:
I do understand why it has to rain up north. How else would that appealing green and mossy countryside be maintained? What would the sheep drink? But why couldn't you organize that live-giving moisture to come during the many months when there was no cricket? It seems like poor planning and a lack of co-ordination; and I fear you are going to have a long shift.
Christian, for SIX WEEKS during the spring lockdown there was no rain. It was like living in southern France. No slugs turned up in the kitchen, we had breakfast outside. It was wonderful. But we were only allowed to leave the house once a day. Then lockdown lifted, cricket started to appear on the horizon and…. it started raining.

10:41
Sky are reporting from the ground where the rain is hammering/bucketing/sheeting down on the covers. Michael Holding muses that the West Indies started the Test with the wrong attitude, that all they had to do was draw the Test match to take the Wisden Trophy back to the Caribbean.
Then they move on to Stuart Broad. Holding, "He has bene able to adjust his game. For the first few years, 33 percent of his wickets were bowled or lbw, averaging 27, now 59 percent, averaging 21, he is bowling fuller."
And Nasser Hussain: "If it wasn't for Jimmy Anderson, he would be England's greatest ever fast bowler." I could live with that.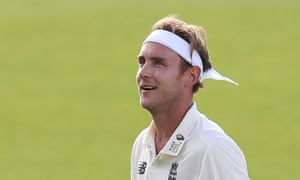 Updated


10:32
Quite the elite club for Jason Holder and Imran Khan.

10:23
An email arrives unperturbed by the weather.
Morning Tanya
Morning Andy Bradshaw!
Looking at the forecast, it'll dry up at about lunchtime for a couple of hours, but there won't be any play because they'll be having the lunch break. Because cricket
Because cricket. Because Test cricket to be fair – T20 operates at more of a trot.
Updated


10:06
From a drier area of the country, a lovely piece by Tumaini Carayol on watching cricket at The Oval yesterday.

16:47
Preamble
Good morning from Manchester where weather is dark, wet, grey and miserable. The pavements are puddle-wet, the sodden buddleia bows low, hoods are zipped, velcroed, pulled tight. In short, play will not be starting on time.
Which is a shame for England, surely only a session or two from regaining the Wisden Trophy, and who from a stolid start yesterday afternoon thumped to an unassailable lead of 398 before West Indies slumped to 10 for 2 as the evening slipped away. For West Indies, temporary relief, and a glimmer of a chance of holding on for a draw.
Should the clouds part, all eyes will turn to Stuart Broad, who is one wicket away from the magic 500 where he will join the elite club of Courtney Walsh, James Anderson, Muttiah Muralitharan, Anil Kumble, Glenn McGrath and Shane Warne. Does, my son asked me as I typed out this list over breakfast, that make Broad the third best fast bowler of all time?
While we wait, two legends from the vintage vault: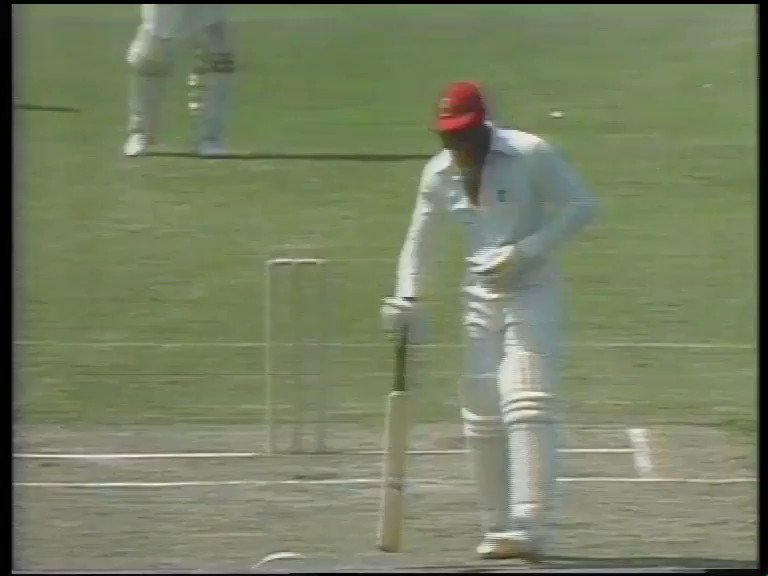 Updated