13:06
Honours even, I reckon. Dominic Sibley went for a duck in the first over and Joe Root was superbly run out by Roston Chase. The match and series are perfectly posied. West Indies, who chose to bowl first, know they have an excellent chance to expose a weakened England batting line-up in the afternoon session. England know that if they dig in as effectively as they did in the second Test, they will control and probably win this Test.

13:03
Lunch
27th over: England 66-2 (Burns 33, Stokes 7) Rory Burns has done a lot right, particularly since his breakthrough in last summer's Ashes. One slight irritant is that he has had quite a few nothing scores between 20 and 49. It's only a mild case of the Denlys at this stage, but he'll be keen to cash in after doing the hard yards this morning.
He survives the final over the session from Gabriel, who has now cranked it up to 88mph. That's very encouraging for the West Indies, not to mention all lovers of a fair fight.

12:58
26th over: England 63-2 (Burns 30, Stokes 7) A high-class stroke from Stokes, who walks down the pitch to drive Cornwall past mid-on for four. There should be time for one more over before lunch.
"Definition of an allrounder is simple: walk into the team on either discipline i.e. either be in the top six batsmen in your country or top five bowlers," says Digvijay Yadav. "Anyone else is a bits and pieces player."
I know what you mean – and it's the simplest definition I've heard – but you probbaly need to mention the secondary discipline as well. Otherwise, Geoffrey Boycott was one heck of an allrounder.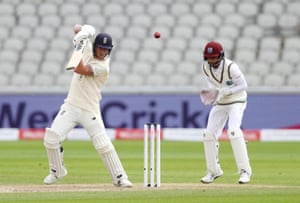 Updated


12:56
25th over: England 59-2 (Burns 30, Stokes 3) Gabriel has pulled up okay since coming back into the attack. He's not at top speed – mid 80s rather than low 80s – but he's a fighter, and that's the best we've got. He still has enough pace to force Burns into a mistimed hook that falls short of fine leg.
"Morning Rob," says Simon McMahon. "Loving all the cricket chat but, given that I foolishly opened a couple of bottles that I found at the back of the cupboard last night, I was kind of hoping for some more rather traditional OBO offerings. Namely, what's the best hangover cure known to man?"
You already know the answer to that, and it's at the back of that very same cupboard.

12:51
24th over: England 57-2 (Burns 29, Stokes 2) Ten minutes to lunch. Cornwall continues to Stokes with a slip and short leg in place. A maiden. The days of Stokes pumping bowlers into the crowd at the start of an innings just before lunch, just for the hell of it, are long gone.
"I like how nominative determinism can be seen at play in much of the England line-up, a thought that struck me when Root (whose class is based on remaining at the crease) tried to go against type to dominate a bowler," says Ian Copestake. "Stokes has fire that fuels him, Archer is a supreme technician and Buttler, well, alas someone will have to get his coat for him."

12:50
23rd over: England 57-2 (Burns 29, Stokes 2) Stokes edges Gabriel just short of Campbell at third slip. That was really close. Earlier in the over, England received four bonus runs when a short ball flew down the leg side past Dowrich.
"Hi Rob," says Geoff Wignall. "Surely the definition of a true allrounder is someone who can bowl finger spin, wrist spin, seam, swing and flat out fast combined with a Test average around 60 plus holding the record innings for a few decades and be a world class fielder in several positions, as well as drinking brandy all night and occasionally at lunch. Not that many come to mind."
I can think of only one: WJ Mitty RHB LHB RF LF OB LBG SLA SLW.

12:44
22nd over: England 52-2 (Burns 29, Stokes 1) Benjamin Stokes is the new batsman. This is his fifth innings at No4; the last two were as a specialist batsman against Australia at the Oval last summer. Burns, meanwhile, cuts Cornwall for four to bring up England's fifty.
Updated


12:41
Burns worked Cornwall to backward point and was called through by Root, who was just short of his ground when Chase picked up on the run and skimmed the bails with a flat throw. That was brilliant fielding, not least because a direct hit was the only way Root could have been dismissed.

12:39
WICKET! England 47-2 (Root run out 17)
Turns out England were a bit too alive to the opportunities for a quick single: Joe Root has been run out!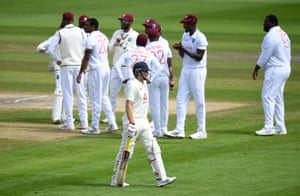 Updated


12:37
21st over: England 47-1 (Burns 25, Root 17) Gabriel returns to the attack. As Athers says on Sky, this is a big moment because if he breaks down again West Indies will be in the malodorous stuff. He gets through his first over, albeit at half ratpower, and England scamper another five runs. There's been only one boundary all morning, with England reluctant to play aggressively against the moving ball, but they have been alive to most opportunities for a quick single.

12:33
20th over: England 42-1 (Burns 22, Root 15) Burns moves into the twenties with an confident stroke, walking down the track to clip Cornwall through midwicket for three. Cornwall has bowled four overs for 15. England are trying to go after him – not through boundaries but with placement and good running. It's almost as if Graham Thorpe is their batting coach.
"Hi Rob," says Tom Atkins. "A bit niche for those not from Kent, but I always thought one of Mark Ealham or Matthew Fleming were good enough to become a fifth bowler and genuine all-rounder in the mid-nineties. Unfortunately before the days of central contracts, coherent bowling strategies, aerobic fitness and selectors actually putting faith in their players, they were always dismissed as bits and pieces merchants."
I love that Kent team but I really don't think they were good enough. Ealham did okay for a while, and apparently impressed Steve Waugh with his attitude during the 1997 Ashes, but he always had the look of somebody who had forgotten their flotation suit. Both were good enough for the ODI team, though, and I thought England dropped Jazzer Fleming far too early. Had he been in the team for the 1999 World Cup, I honestly believe England would have avoided abject humiliation.

12:30
19th over: England 38-1 (Burns 19, Root 14) Burns is beaten by consecutive deliveries from the luckless Holder, who has been the best bowler by a distance this morning. Figures of 7-3-7-0 tell only part of the story.
"Chris Woakes' Test batting average might be 26 but his first-class
average is almost 34," says Romeo. "Stokes' f-c average is 36. And Jason Holder's f-c average is just under 26. Woakes also has a Test century."
I'm still not sure he's a Test No7. But that might be just by my addiction to a strong lower order. If you asked me to select an all-time World XI, I wouldn't pick Lillee, Marshall, Akram and Warne. I'd go Klusener, Procter, Vettori … Blignaut.

12:24
18th over: England 37-1 (Burns 19, Root 13) I say! Root tries a big pull stroke off his first delivery from Cornwall, misses and is almost bowled round his legs. He clearly wants to dominate Cornwall and manoeuvres the next two balls for two and then runs.
Updated


12:21
17th over: England 30-1 (Burns 17, Root 8) It's attitional stuff out there. A soft-handed drive brings Root a couple off Holder, and he keeps the strike by stealing a single off the last delivery.

12:17
16th over: England 27-1 (Burns 17, Root 5) More spin for Cornwall, who turns one past Burns's outside edge. Actually I think Burns left that at the last minute. But this has been a really good start from Cornwall.
"There's no shame in being a bowler that can be expected to bat a bit," says Paddy Blewer. "Hadlee comes to mind – obviously Woakes isn't the bowler he is, but there was a time when Hadlee might have made a World XI on his bowling, but his batting would have been an afterthought. I remember in the 80s we believed we lived in an age of allrounders – Botham, Hadlee, Kapil Dev, Rice, Imran. If we're honest with ourselves however, I'm not convicned that for much of the period I remember (late 80s) they were true allrounders. Imran maybe – he did very well against the Windies. The others were hot and cold and Hadlee and Kapil always struck me as bowlers that could bad well – just like Woakes."
Yes, Hadlee and Kapil were No7s at best, really. Peak Botham was absolutely an allrounder -he could bat, bowl, drink brandy till 4am and take a five-for the next day – but by the late 80s he was a pastiche.

12:14
15th over: England 25-1 (Burns 15, Root 5) More tempting outswing from Holder to Root, who has compromised his usual busy approach and is just trying to get through to lunch. A maiden.

12:10
14th over: England 25-1 (Burns 15, Root 5) The big offspiner Rahkeem Cornwall is coming into the attack. He barely has a walk-up, never mind a run-up, but his numbers are extremely impressive. His fifth ball is gorgeous, drifting in and then spitting away to beat Burns' defensive push. Seeing a ball turn like that before lunch on day one is extremely encouraging for both sides.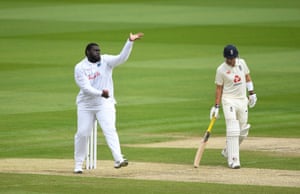 "Hi Rob," says Neil Withers. "The discussion on Woakes' batting reminds me of something I've been meaning to email in with for yonks – it's about time we had an OBO-certified ranking of batting terminology for people who aren't playing as batters. OK, maybe the whole concept needs a better name. My stab, in decrease order of prowess:
Batter who bowls a bit
Genuine all-rounder
Useful lower-order bat
Bowler who bats a bit
Can be relied on to chip in with a few
No mug with the bat
Can hold an end up
Genuine tail-ender
Proper number eleven
"FWIW, I think Woakes is either 'useful lower-order bat' or a 'bowler who bats a bit'. Sorry for the lengthy missive, huzzah for cricket being back, eh? I've loved it, and hope people can hold back a bit of the vehement criticism under the circs."
It's a nice idea, though I feel like you need a better description for Woakes, who is slightly more than a useful lower-order bat. Surely the easiest way is to categorise them by numbers, with halves if you want to have greater precision but risk being called a pseud. With that in mind, I reckon Woakes is a 7.5. And, since you asked, Alan Mullally, Ed Giddins and Phil Tufnell were all 12s.
Updated


12:07
13th over: England 23-1 (Burns 13, Root 5) There's been a bit of swing for Holder, though not as much as in the first innings of the last two Tests. Batting isn't easy, far from it, but these are conditions in which any self-respecting grinder would back themselves to get through to lunch. England have done pretty well so far. Burns has 13 from 38 balls, Root five from 35.
Thanks for all your emails, which I'm trying to read between deliveries. Few things panic a liveblog writer (well, me) more than looking at an inbox with more a couple of unread emails. At the moment I have

17
19 and am in need of valium.
Updated


11:59
12th over: England 21-1 (Burns 12, Root 4) Burns gets the first boundary of the day, driving a gentle half-volley from Roach through extra cover. Shannon Gabriel has returned to the field. Who knows, the state of his calf may decide this whole series. Meantime, that's drinks.
Updated


11:57
11th over: England 17-1 (Burns 8, Root 4) Root is beaten by a beauty that straightens past his defensive stroke. West Indies only have two seamers, it's true, but they have the best two for these conditions. Holder ends the over – another maiden – with a seductive full-length outswinger that beats Root's attempted drive. Lovely bowling.
"Interested in the captaincy chat re the early 90s," says Hugh. "Atherton's autobiography Opening Up insightful that there was never any animus between them but that they were such different characters that hard to build a rapport. Atherton would see himself as an awkward squad member, quite cerebral and challenging, compared with Stewart being far more mainstream, straightforward, not a subtle character (although a class keeper and batsman). I don't think his father was the best manager England ever had including in relation to people management."
Yes, the perception of a feud between the two, fuelled in part by a freak, shambolic run-out in India, was a load of nonsense. As for Micky Stewart, while my Test career did not coincide with him as coach, I'd argue he was a better man-manager than most England coaches. For every Gower there were three or four Smiths, Frasers and Russells. But it's hard to truly know without being there.

11:52
10th over: England 16-1 (Burns 7, Root 4) Burns inside-edges Roach past leg stump for a single. The mood was so positive when West Indies took that early wicket, but the loss of Gabriel has dampened all that enthusiasm.
"Hello Rob," says Leah Mahtani. "Hope you're being treated to quite the Windies dominance show. Sadly, this devout Windies fan can't watch because I'm at the SCG watching rugby at an extreme distance. Safe to say I can't see a bloody thing."
Leah did include a picture, which I can't upload for reasons of not being able to upload pictures. You can barely see the stewards, never mind the players. I've had a better view of the action at the darts. Still, it's live sport, and we should always be grateful for that.
Updated


11:49
9th over: England 14-1 (Burns 6, Root 3) "Hi Rob," says Alastair Fillingham. "First time caller, big fan of the show. I think we can all agree there is decent reasoning behind the name change of the Wisden Trophy to the Richards-Botham Trophy, if we are basing it purely on cricketing merit of course and not certain political factors in the news this week. It is a bit wordy though, may I suggest referring to it as the 'Ri-tham' Trophy, has a better sound to it, if you'll pardon the pun."
Did you notice the press release, a-hem, forgot to mention Botham's record against West Indies with the bat (20 Tests, no centuries)? I don't mind Richards/Botham, given their status and friendship, although I would have preferred to have two players who simultaneously excelled in this fixture: the Marshall/Gooch Trophy, something like that. Or maybe the Lambert and Buttler trophy, just for the craic.

11:44
8th over: England 14-1 (Burns 6, Root 3) Bad news for the West Indies: Shannon Gabriel is leaving the field through injury. He pulled up twice in a row in his delivery stride, and it looks like a problem with his calf or achilles. West Indies are down to only two seamers, so Kemar Roach has to come back on to complete Gabriel's over. You don't want to be down to two seamers before midday, especially not when you bowl first. They don't even have a part-time swing bowler in their top six.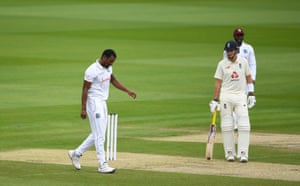 "eBay UK is hosting a one-of-a-kind charity auction by promoting bids for a unique, commemorative England players' cap to raise funds for the Ruth Strauss Foundation," writes Gemma Styles. "eBay will also be asking all UK customers to show their support for the charity during the Test Match, by making the Ruth Strauss Foundation eBay's nominated 'Give At Checkout' charity."
Here's the link if you'd like to bid for the cap.
Updated


11:37
7th over: England 11-1 (Burns 3, Root 3) Kemar Roach is replaced by Jason Holder, who fancies some of these conditions. His first ball, which curves beautifully past Root's tentative defensive stroke, shows why. It's another maiden, including a couple of soft-handed thick-edges from Root. Having been put in, England's progress this morning is measured in balls survived rather than runs scored. I reckon they'd take being two down at lunch.
"Rob, about Micky Stewart's promoting Alec's captaincy claims over Atherton's," begins Steve Hudson. "I remember Ted Dexter (head of selectors back then) saying immediately after Atherton was appointed that 'it was a close decision and Micky as you'd expect made clear he thought Alec should get the job'. Which was an example of Ted D's endearing habit of speaking without engaging his brain and didn't really do anyone any favours!"
If that's true, it's even stranger because Micky Stewart stepped down as England coach a year earlier. Did Lord Ted also share Alan Atherton's views on the subject?

11:32
6th over: England 11-1 (Burns 3, Root 3) A short ball from Gabriel to Burns swings down the leg side for four byes. That aside it's been a good start from the West Indies bowlers, who are making the England batsmen play at most deliveries. The early indications are that batting conditions are challenging rather than whatever the adjective is for Johannesburg 99.
"Good morning Rob," says Trevor Tutu. "Just settled down in a mild Cape Town to read the OBO and watch the cricket, and the first thing that happens is I have to take umbrage! In the first preamble you seem to suggest that South Africa could have been expected to lose the series? This is so far from the truth that I have had to take a walk to the beach to cool off. Lockdown restrictions prevented me from throwing myself into the sea to aid the process."
Well, it was a relatively weak South African side, no? I thought they were slight favourites to win the series, mainly because of Philander and Rabada, but most of my cricket-watching friends thought England would beat them.

11:27
5th over: England 7-1 (Burns 3, Root 3) A maiden from Roach to Root. On Sky, Mike Atherton makes the good point that there was an "I love it when a plan comes together" feel to Kemar Roach's celebration when he took Sibley's wicket. West Indies bowled poorly to Sibley in the second Test, allowing him to leave far too many deliveries, and evidently discussed the subject in the last few days.
"Hi Rob," says Mojo Wellington. " Jack Russell averaged 27; Alec Stewart 39. I'm sure Russell would have saved more than 12 runs to make up the difference. Stewart could and should have been opening the batting throughout and maybe, just maybe, England wouldn't have been quite so rubbish during those years."
I agree with this in principle (though I think Stewart was a very good keeper, arguably as good as Russell standing back). The problem is that, even 25 years later, there's no ideal solution. Stewart opens with Atherton and Russell keeps; that's ideal. But where do you get your fifth bowler from? Unless your spinner is in Graeme Swann's class, you have to have a fifth bowler – especially if you want to play Devon Malcolm.
It's the year 2020, we're all mature adults*, and we're still picking England's best team for the 1994-95 Ashes.

11:23
4th over: England 7-1 (Burns 3, Root 3) Michael Gough is so good that there is a case for never reviewing his decisions unless you are nigh-on certain it's a howler.
"So Rob," says Geoff Wignall, "would you have wanted Sangakkara batting at 7?"
I'd have wanted him at No3, with the wicketkeeping gloves in somebody else's coffin!
Updated


11:22
ROOT IS NOT OUT! Yes, Root was outside the line. Michael Gough, the world's best umpire, gets another big decision right.
Updated


11:21
WEST INDIES REVIEW FOR LBW AGAINST ROOT!
3.5 overs: England 6-1 (Burns 3, Root 3) Root is beaten by a good delivery from Gabriel that straightens on a length – and then he survives a big LBW appeal after playing outside the line of an offcutter. Outside the line I reckon – but West Indies want to review.
Updated


11:17
3rd over: England 6-1 (Burns 3, Root 3) Root digs out a first-ball yorker from Roach, and then scrunches another attempted yorker through midwicket for three to get off the mark. Whatever the situation, Root is busy as soon as he walks out to bat.
"Good morning Rob," says Darrel Boulcott. "I am wondering if Crawley has been dropped for an extra bowler because Stokes is injured? Really it makes no sense to play an injured man as a batter when Crawley is fully fit and ready to go. Surely it is better to rest Stokes so that he can recover."
That's definitely why Crawley has been left out, though it is still a big risk because they have further weakned their weaker suit. But Stokes plays because he is 100 per cent fit to bat, and he is the best batsman in the team.

11:12
2nd over: England 3-1 (Burns 3, Root 0) Burns inside-edges Gabriel's first ball in the air but well wide of short leg. That aside it's a quiet first over. West Indies could do serious damage today, with the out-of-form Jos Buttler at No6. Talking of which…
"Rob," says John Starbuck. "You might be treating Chris Woakes's record rather harshly, given he achieved a certain record in the last game. We all have to revise our views at times."
I think he averages 26 with the bat I think. Admirable player, emergency World Cup opener, impeccable human being, but to me he's not quite an allrounder.

11:07
1st over: England 1-1 (Burns 1, Root 0) That's Sibley's second duck of the series to go with a fifty and a hundred. He tried to work to leg, as is his wont, missed and was plumb in front. Sibley discussed a review but it would have been a waste. Joe Root is the new batsman, and England are one wicket away from being in big trouble. Already.
Updated


11:06
WICKET! England 1-1 (Sibley LBW b Roach 0)
A great start for the West Indies! Dominic Sibley has gone fifth ball for nought, pinned in front by a beautiful inswinger from Roach.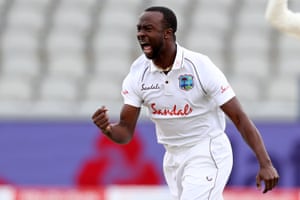 Updated


11:02
It'll be Kemar Roach to bowl the first ball to Rory Burns…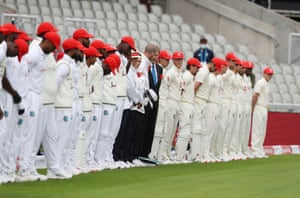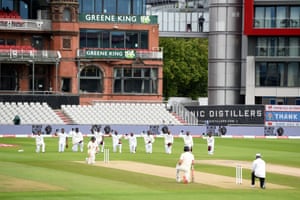 Updated


10:58
"Morning Rob, morning all," says Matt Turland. "I've just about recovered from the shambling shower of a Wednesday night when Forest out-Forest'd themselves. So I'm hoping (against my better judgement) that this Test can cheer me up.
"Batting is looking a little light here. Don't get me wrong, I'm not for one minute suggesting Crawley would have guaranteed us a first innings score of 400+ but it still looks worrying light. Presumably, it's a decision that is based around wanting to win (and thus having your best bowlers on the pitch), while also thinking about the Pakistan series (and being able to rotate and rest said best players). All I know is that footer can do one and cricket best not let me down again."
Yeah, I don't really like a team that has the keeper at No6, even if it's Adam Gilchrist, unless there's a proper allrounder at No7. Chris Woakes isn't quite that. I think England will win but I'm nowhere near as confident as I was an hour ago. This could be a pulsating first session.

10:57
The players on both sides trot down the steps, resplendent in their red caps to mark the second Ruth Strauss Foundation Test. If you'd like to donate, click here.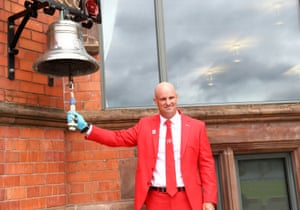 Updated


10:53
"I see England have gone with three No11s again," says Richard O'Hagan. "This is bad for the psyche of those of us who remember the nightmare of Tufnell, Mullally and Giddins all fighting for the #9 spot."
Come on, Archer's not a No11. His batting has been a disappointment so far but he's still at worst a No10.

10:51
"Hi Rob," says Dan Hunt. "Looks like Stokes won't be bowling in this test then. Five-man attack and Big Ben as a specialist batsman. Lot of pressure on Buttler, Woakes and Bess to find 100 runs between them minimum when England bat. If I was someone who'd started watching cricket in the '90's I'd be thinking this was set up for a spectacular England batting collapse at some point…"
I have no idea what you're talking about.

10:48
"Any respect I have for Holder as a captain is severely tempered by his often choosing to bowl at the toss," says Robert Speed. "Although being a bowler himself means it's not as if he's trying to avoid facing up to the task at hand (as opposed to if he was an opening batsman), I see bowling first as a negative, passive and frankly soft option. It was particularly indefensible in the second Test given that the pace bowlers were predictably tired after the quick turn-around from the first Test. I predict it won't work out here for WI once more."
I know what you mean, but surely batting first is the safer option? You know that if you bowl first and it goes wrong, you'll be Brisbaned, whereas if you bat first and are bowled out in 36.4 overs, the batsmen rather than the captain get the blame.

10:38
Pre-match pluggery
The brother-in-law of a friend of an old friend spent lockdown inventing a new game – FlickIt Cricket. It looks like oodles of fun, especially if you have immediate descendants. And the good news is you can play it with people from your support bubble!
I think. Don't quote me on that. Disclaimer: the guardian.com is not legally responsible for anything.

10:38
I'm off to grab a coffee and think about whether England have taken too big a gamble with that team selection. LOOK, I SAID I NEED TO THINK ABOUT IT. See you back here for the first ball at 11am.
Updated


10:38
"Morning, Smyth," says Sean Clayton. "Rhodes over Jack Russell? Not having that – JR's Test batting average was marginally higher and his 'keeping was far better than Rhodes, Stewart* or anyone else from that era.
"*I'm not proud of it but I always had an irrational dislike of Alec Stewart just for keeping Russell out of the Test side in the mid-late 90s, even if the rationale – we needed an 'extra' specialist batsman, given the state of our batting in the 90s – made sense. I seem to recall Micky Stewart, as team manager, forcefully arguing for his son to be the successor to Gooch as captain (Atherton got the job), which didn't endear the Stewarts to me either…"
I think that's a wee bit harsh – in his autobiography, the newly released paperback of which I am definitely not plugging here, Robin Smith says that Micky Stewart was tougher on Alec than pretty much anyone else in the England team. As for Steve Rhodes, that was just a Ray Illingworth joke. I've got plenty more if you like. Oh.
Updated


10:36
England's team selection is very interesting – Zak Crawley and Sam Curran have been replaced by Jofra Archer and Jimmy Anderson. Leaving out Crawley is a not insignificant gamble, especially in view of Jos Buttler's form. West Indies, as expected, bring in Rahkeem Cornwall for Alzarri Joseph.
West Indies Campbell, Brathwaite, Hope, Brooks, Blackwood, Chase, Holder, Dowrich (wk), Cornwall, Roach, Gabriel.
England Burns, Sibley, Root, Stokes, Pope, Buttler (wk), Woakes, Bess, Archer, Broad, Anderson.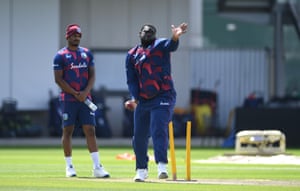 Updated


10:33
West Indies have won the toss and will bowl first
That's a brave call given what happened in the second Test.

10:31
This is the second #RedforRuth Test, with both teams raising money for the Ruth Strauss Foundation. You can donate and read more about the foundation here, and I'd urge you to read Andrew Strauss's interview with Zoe Williams. If there's a more impressive man in the world than Strauss, I'd love to meet him.

10:15
The forecast isn't great for this test, with showers predicted for days 2-4. Today? Well, I'd probably expect a dry but largely cloudy morning with the best of the sunshine across the north. Through the afternoon, the cloud will begin to break up, allowing for widespread sunny spells. Feeling warm. Maximum temperature 23 °C.

10:11
The toss is at 10.30am, and there will plenty of interest in the England XI. They will leave out at least two and possibly three of their sextet of seamers: Anderson, Archer, Broad, Curran, Woakes and Wood.
Since you asked so politely, I'd be happy with any combination. If I was a Ray Illingworth-style supremo, I'd include Stuart Broad and pick the rest of the attack based on conditions, morale and fitness. And I'd have Steve Rhodes at No7.
West Indies also need to decide whether their quick bowlers can cope with a third Test in quick succession. The word on the Manchester street is that one of them will be replaced by the spin bowler Rahkeem Cornwall.

13:10
Preamble
Hello. Now here's a treat: a series decider. A proper series decider, where both sides can still win, lose or draw. They don't came along as often as you might think. England had eight out of 24 in the 1990s, six out of 37 in the 2000s and only three out of 38 in the 2010s. The most recent was at Lord's in 2017 against the West Indies, who are back to provide the first series decider of the 2020s.
It feels slightly strange to be talking about a grand finale, given the series started only 16 days ago. West Indies need a draw to retain the Wisden Trophy, but what they really want is to win in England for the first time since 1988. It would also be their first series victory away to one of the Big Eight since Courtney Walsh bulldozed New Zealand by taking 13 for 55 in 1994-95.
England need to win to save face. For all West Indies' improvement, and the goodwill towards both sides for putting Test cricket back in our lives, England need to be winning series like this. A par score in this series was probably 2.5-0.5 to England. That scoreline is beyond them in more ways than one. But they can secure a niche bit of history: a victory here would make England the first team ever to win consecutive Test series after going 1-0 down.
(There's an argument this bit of history would reflect poorly on them, as they shouldn't have been going 1-0 down to South Africa and West Indies in the first place, but let's accentuate the positive for now, eh.)
Updated