Ever wondered how much James Anderson puts into his bowling? How about breaking a rib from effort?
If you ever wondered how much James Anderson puts into his bowling, it's worth thinking back to how his South Africa tour ended.
Anderson broke his rib in the Cape Town Test. Not because he sustained a blow. But through the repeated effort of pushing his body through the rigours of fast bowling. The England medical team said they had never seen such an injury.
By the time he left the pitch – pain etched all over his face having tried to bowl his side to victory – he had delivered 37 overs in the match. Not bad for a 37-year-old. And nor was his analysis: 7-63. In the first innings, he had become the oldest England seamer to take a five-for since Freddie Brown in 1951.
Now 38, he took another five-wicket haul here. Ridiculously, really, it was his 29th in Test cricket. Only one seamer, Sir Richard Hadlee, has claimed more.
Perhaps of more interest, the return, 5-56, put Anderson on the brink of 600 Test wickets. He requires only two more now. And while he has yet to take a second-innings wicket this summer, the way in which he is bowling suggests Pakistan may need some help from the weather to deny him.
He could – should, maybe – have reached the landmark already. At one stage, late in the day, he saw three catches put down off his bowling in the space of 10 balls. All of them should have been taken, though to be fair, the light was murky.
ALSO READ: Light was 'seriously dangerous' for tailenders – Bess
A few years ago, Anderson's reaction might have got the better of him. Oh, he looked furious all right. But who wouldn't? And he didn't say a word. Instead, he walked back to his mark and concentrated on creating another chance. The fourth of them in 22 balls was taken to finish off the innings and seal his haul. You suspect relief was the overwhelming emotion in the England dressing room.
But Anderson's ability to control his emotions has been one of the many areas in which he has improved in recent years. Until 2014, he was famously grumpy on the pitch. And while he felt he needed that edge to spur him on, there were times it seemed to spill over and become a distraction. Remember the Ravi Jadeja incident at Trent Bridge? Whatever really went on in that corridor, the repercussions rumbled on for a long time and persuaded Anderson he needed to change.
He learned he didn't need such a side. Just as few of those West Indies bowlers needed to say much to convince their opposition they were in hostile territory, so Anderson realised he was best served by concentrating on his craft and allowing the results to sort themselves out. That's how to claim four chances in 22 balls despite the disappointment and distractions of missed chances.
But nothing has ever come easy to Anderson. Yes, he was drafted into England's international teams as little more than a kid: 20-years-old and blessed with an ability to swing the ball late at sharp pace.
But within a couple of years, attempts to refine his action saw him lose his pace, his swing and, eventually, his fitness. The stress fracture he suffered left him a spectator during the 2005 Ashes and threatened, for a while, to derail his career.
All the time he was sidelined he was watching, though. Watching and talking and learning. Friends talk of him as a "cricket geek". It's meant fondly. But while others may want to turn off between games, Anderson watches all the cricket he can: Test cricket; T20 cricket; even videos of county footage to ensure he is informed not just about his opponents but so he can pick-up any new skills. Have two fast bowlers even reinvented themselves in their mid-30s the way Anderson and Stuart Broad have? That spirit of self-improvement may define them both.
Later, as a member of the four-man attack that took England to No. 1 in the Test rankings, he was obliged to operate as both strike and stock bowler. Yes, he took some wickets on days when the ball jagged around in England. But oh, he earned them from all those days he answered the call from captain after captain, not knowing where else to turn, for yet another spell on a heartbreakingly flat pitch. Really, anyone who thinks Anderson has had it easy haven't been paying attention.
All those overs took their toll. That right shoulder has bowled more deliveries than any seamer in the history of Test cricket. At this stage it's held together by habit and hope. At one stage, in late 2016, those closest to him recall him not being able to pull on his t-shirt or tie his shoe laces without significant pain. The England management told him not to worry about the tour to India. Relax, they said. Take your time. Come back to the team for the next English summer.
But he was having none of it. Instead he persuaded his then manager, the former county player Luke Sutton, to pad up and face him in the indoor nets at Old Trafford. Anderson would then video the sessions and send them to the England management with a message that basically said 'Look! I'm fine! Get me to India.' He arrived in time to play in the second Test and claimed four wickets.
Let's put that in perspective. Anderson was, by this time, a fast-medium swing bowler in his mid-30s. He had proved, as MS Dhoni put it, to be the "difference between the sides" on the previous tour, in 2012. He had nothing to prove to anyone. He could easily have skipped the tour, protected his figures and waited for the green pitches and Dukes ball of the next summer. What sort of madman would insist on the heartbreak of India?
Well, the sort that becomes a champion. The sort that doesn't know when they're beaten. The sort that loves not just the plaudits on the good days, but the graft that goes with the tough ones. The sort that breaks a rib through the effort of trying to win a game for their country. The sort that, you suspect, won't ever have had their fill of this great game of ours.
Again, it's worth thinking back to that South Africa tour at the turn of this year. Anderson talked eloquently of this enduring love for the craft then. Not for taking wickets or winnings matches, so much. More about the craft and effort. The love – yes, that was the word he used – of claiming a second new ball on a flat wicket with the opposition set. Of the satisfaction he felt when "you struggle to get out of bed to walk to the toilet".
The outcome of all this is that Anderson has taken 330 Test wickets (at a cost of 23.91) since he was 30. And, for all the talk of struggling overseas, he's claimed two five-wicket hauls in his most recent five Tests overseas. And three in his last 13. Yes, he's not as quick as he was. But if pace was everything, Tino Best would have more Test wickets than Vernon Philander and Jofra Archer would have been the man leading the team off the pitch on Sunday.
Logic tells us it will end soon. He's 38, for goodness sake, and England's next Test tours are to Sri Lanka and India. By the time the Ashes come back round, he'll be 39 and Australia, surely, is no country for old men. Really, any day could be the last. Enjoy it while you can.
So, yes, time will get him eventually. It has a broader bat than Sachin and more patience than Boycott. But Anderson's been defying convention and logic and expectation for a while now. Who is to say he won't keep doing it for a while yet? And he only needs 102 more wickets to reach the 700 mark.
This story has been sourced from a third party syndicated feed, agencies. Cricket Galiyara accepts no responsibility or liability for its dependability, trustworthiness, reliability, and data of the text. DigitalGaliyara (OPC) Private Limited management reserves the sole right to alter, delete, or remove (without notice). If you have any concerns with the Content, then please write to us at the mail@digitalgaliyara.com
Recent Match Report – Kent vs Glamorgan Group 3 2021
Report
Matt Quinn claimed the third Glamorgan wicket to fall but only 6.2 overs were possible
Glamorgan 64 for 3 trail Kent 307 by 243 runs
Glamorgan moved to 64 for 3 against Kent on day three of their LV= Insurance County Championship match at Canterbury, trailing by 243 at stumps after just 6.2 overs were possible due to a waterlogged outfield and then bad light.
Matt Quinn took the only wicket to fall, removing Joe Cooke for 10, leaving him with figures of 2 for 10. Billy Root and Kiran Carlson were the not out batsmen, on 26 and nought respectively.
Play was delayed until 5.19 pm after heavy overnight rain left several areas of the outfield unplayable, with umpire James Middlebrook's shoes making an audible squelch as he strolled towards the pavilion to deliver the bad news following one of six pitch inspections.
When the action did finally get underway, with around 50 diehard fans still in the ground, Glamorgan resumed on 55 for 2 in reply to Kent's 307 all out. Just five runs had been added when Quinn knocked back Cooke's off stump in the 25th over, the batsman failing add to his overnight score.
Root initially looked more comfortable, driving Stevens for four through long-off but then surviving an appeal for caught behind off next delivery.
With the light deteriorating the players went off after just 24 minutes and with increasingly heavy rain falling, play was abandoned for the day. A bleak forecast for Sunday means the Group C game is almost certain to end in a draw.
David Hopps writes on county cricket for ESPNcricinfo @davidkhopps
http://www.espncricinfo.com/ci/content/story/1263852.html?ex_cid=OTC-RSS
Recent Match Report – Lancashire vs Northants Group 3 2021
Report
Only 11 overs possible at wet Wantage Road, with Keaton Jennings the batter to fall
Lancashire 75 for 1 vs Northamptonshire
Gareth Berg made the only breakthrough for Northamptonshire as just 11 overs were possible on another rain-affected day of this LV= County Championship tie with Lancashire at Wantage Road.
The evergreen seamer found plenty of bounce and movement and claimed his 20th wicket of the season when he enticed Keaton Jennings to drive loosely at a ball outside off stump and edge through to wicketkeeper Adam Rossington, who took a comfortable catch.
With Jennings departing for 27, Alex Davies was joined by Luke Wells and the pair faced a testing spell from Berg and Ben Sanderson, fresh from their 19-wicket demolition of Sussex two weeks ago. They maintained pressure, beating the bat regularly and making it difficult to score.
Davies did manage to break the shackles briefly by cutting a rare wide one from Sanderson for four and later driving him through midwicket for another boundary. By the time play was called off Lancashire had advanced to 75 for 1 after 28.1 overs.
The start of play was delayed until 2.30pm due to a wet outfield after the whole of the second day was lost to heavy rain. Jennings and Davies were resuming on 59 without loss, their fourth 50 opening stand of the season.
After further interruptions due to showers, the umpires called stumps shortly after 4pm following further rain and hail which turned the outfield white as the players left the field.
http://www.espncricinfo.com/ci/content/story/1263849.html?ex_cid=OTC-RSS
WATCH: Chris Cooke comically bumps into stumps during a County Championship match against Kent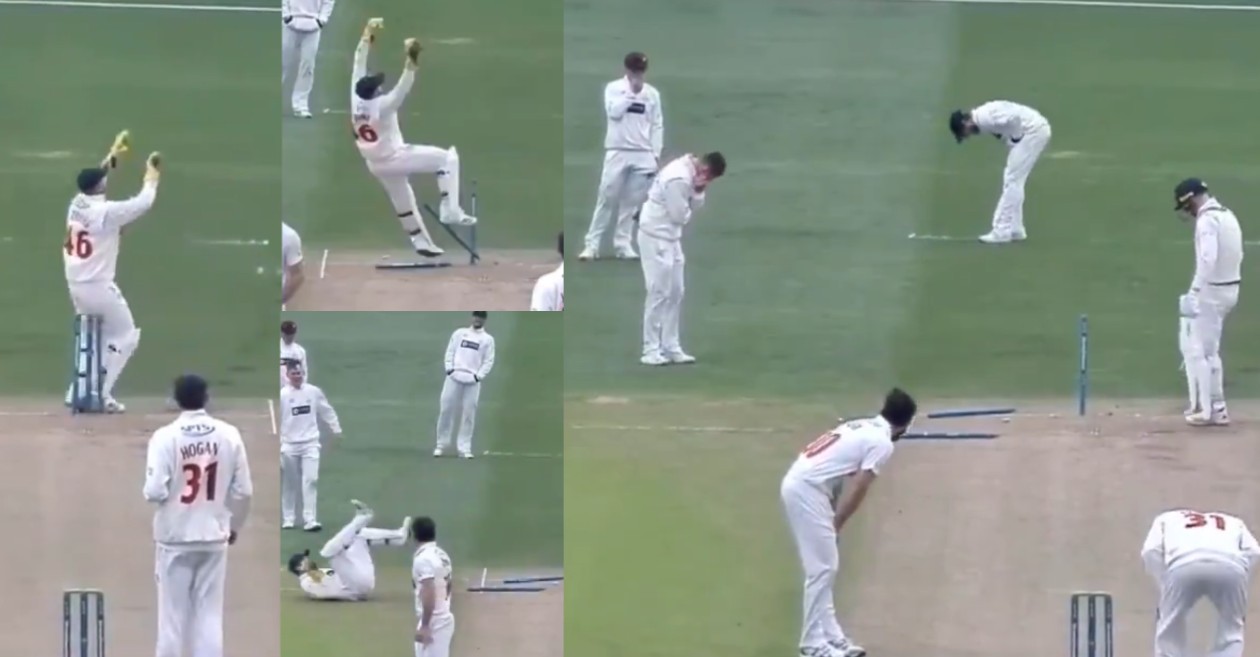 In the ongoing Group 3 match between Kent and Glamorgan of County Championship 2021 at St Lawrence Ground in Canterbury, a funny incident involving Glamorgan wicketkeeper captain Chris Cooke captured everyone's attention.
It all happened in the 28th over of Kent's first innings bowled by Australian pacer Michael Neser. The fast-bowler bowled a short of a good length delivery around the middle and leg stump which was tapped by Sam Billings down to fine leg for a single.
The fielder collected the ball and threw it towards the strikers' end. Cooke, who was standing behind the wickets, quickly came near the stumps to collect the red leather. The throw was a bit off target and while catching the ball, the wicketkeeper ended up crashing over the stumps before falling onto the ground. As soon as Cooke fell, his teammates couldn't control their emotions and burst out in laughter.
Here is the video:
😂😂😂 @Cooky_24!

His teammates enjoyed this one from the skipper!#GoGlam pic.twitter.com/fRGg7si1md

— Glamorgan Cricket 🏏 (@GlamCricket) May 21, 2021
Darren Stevens rescues Kent with a sensational ton
After winning the toss, Glamorgan asked Kent to bat first and bundled them out for 307 runs. 45-year-old Darren Stevens was the main highlight in Kent's innings. The senior lad went on to score 190 from 145 deliveries rescuing his team, which was struggling for 128/8 at one stage.
Stevens formed a 166-run partnership for the 9th wicket with tailender Miguel Cummins, who contributed with just 1 run. It became the highest first-class partnerships in which one player scored more than 90% of the runs.
Stevens smashed 15 fours and as many sixes to score 150 runs by just boundaries out of his total 190 runs knock.
👏👏👏 A standing ovation for Darren Stevens from everyone at @Spitfire_Ground @Stevo208 🏏 #SuperKent pic.twitter.com/81zm2Vh6tr

— Kent Cricket (@KentCricket) May 21, 2021
In reply, Glamorgan have made 55/2 in 19.4 overs before the wet outfield stopped play. Stevens, who shined with the bat, proved his mettle in the bowling as well. The all-rounder dismissed Australian batting sensation Marnus Labuschagne for just 11 runs.
WATCH: Chris Cooke comically bumps into stumps during a County Championship match against Kent