Australia Women vs New Zealand Women 2020 – Alyssa Healy eyes 360-degree strokeplay
Bowlers beware. Alyssa Healy might be about to bring out even more shots. The Australia wicketkeeper-batter could unveil some new strokeplay in the series against New Zealand which starts on Saturday, having used the extended Covid-19-enforced break from the game to look at how she can become a full 360-degree player.
The last time Healy picked up a bat in a match was the T20 World Cup final at the MCG on March 8 where she plundered 75 off 39 balls against India to give Australia a position from where they never threatened to lose the match.
That performance, in front of more than 86,000 people, capped a tournament where Healy had bounced back from a rare lean run of form leading into the event where she had made five single-figure scores in a row during the tri-series, involving England in India, which followed a world-record 148 not out against Sri Lanka last October.
ALSO READ: Healy: 'Opportunity to play four big events in 2022 daunting but also exciting'
That run of low scores, which followed a WBBL that was below her typical high standards, was very much a blip in what had been a dominant two years from Healy where she had transformed her game to become one of the leading batters in the world – her ODI record since 2018 boasts an especially prolific average of 58.70.
"I don't want to give away too many secrets to the Kiwis but have been preparing for a few things in particular. Stay tuned."

Alyssa Healy
However, while not wanting to give too much away to New Zealand, Healy said that there were parts of the ground that she wanted to be able to score more freely in and has been trying out some of the new skills during the two weeks of training she and the other quarantined players have undergone in Brisbane.
That fortnight elapsed on Monday and the rest of the Australia squad arrived in the city to prepare for the three T20Is and ODIs apiece which will all be played at Allan Border Field.
"After celebrating the World Cup for about a month, I sat down with my batting coach and discussed a few different things we could work on, not necessarily to jump to another level but prepare as best as I could for this New Zealand attack," Healy said. "I don't want to give away too many secrets to the Kiwis but have been preparing for a few things in particular. Stay tuned."
"You might see some new things from me in this series. It was a great opportunity for me to go back and work on things that I hadn't really touched for a while. I'd made some technical changes a couple of years ago and they paid off beautifully but you never want to be standing still; you want to keep learning, growing and developing and there's always areas of your game that you want to work on."
Despite having driven some of her bowling team-mates to distraction during training over the last two weeks, the internationals may come a little too soon for Healy to show off the full new range but she promised that if they don't come out in Brisbane they'll be on show in the WBBL next month.
"I've driven all the bowlers a little agro over the last two weeks trying a few things in the nets," she said. "We'll have to wait and see if they come out in the game; [I am] not sure if I'm confident enough to do it yet but the ultimate goal in cricket is to be able to play 360 [degrees] and for me there's some areas I haven't quite been hitting so have been trying a few things. We'll have to see if they come out this series, if not you'll definitely see it in the WBBL."
ALSO READ: Cricket for some, not for all – where does the women's game stand?
Healy added that she did not see a lot of rust among the players who had been quarantining over the last two weeks despite the long absence from competitive cricket. Although the tour to South Africa after the T20 World Cup was postponed due to Covid-19 the team had been due an extended break over the winter, albeit some players would have been overseas in the UK, playing in the Hundred, under normal circumstances.
"Form-wise, I've been really surprised with everyone around the group in the last two weeks of training, seeing the Victoria and New South Wales players go about it, there's not a lot of rust around which is amazing," she said. "I'm excited to see what this group can achieve with six months rest; every time we come back from a major tournament we are straight back into something else, so for us to have the ability to have some downtime will hopefully do some really good things for the Aussie women's team."
And while Healy could see the bigger picture of how important it is for the women's game to be up and running again – England and West Indies began their five-match T20I series on Monday in Derby – she said that the competitive instincts mean that the will to win would be as strong as ever come the weekend.
"We want to win, and the Rose Bowl [one-day] series in particular is a really big one which we want to keep our hands on. Yes, I see the greater importance of having cricket back up and running here in Australia, but for us we are out there to win."
This story has been sourced from a third party syndicated feed, agencies. Cricket Galiyara accepts no responsibility or liability for its dependability, trustworthiness, reliability, and data of the text. DigitalGaliyara (OPC) Private Limited management reserves the sole right to alter, delete, or remove (without notice). If you have any concerns with the Content, then please write to us at the mail@digitalgaliyara.com
Recent Match Report – Kent vs Glamorgan Group 3 2021
Report
Matt Quinn claimed the third Glamorgan wicket to fall but only 6.2 overs were possible
Glamorgan 64 for 3 trail Kent 307 by 243 runs
Glamorgan moved to 64 for 3 against Kent on day three of their LV= Insurance County Championship match at Canterbury, trailing by 243 at stumps after just 6.2 overs were possible due to a waterlogged outfield and then bad light.
Matt Quinn took the only wicket to fall, removing Joe Cooke for 10, leaving him with figures of 2 for 10. Billy Root and Kiran Carlson were the not out batsmen, on 26 and nought respectively.
Play was delayed until 5.19 pm after heavy overnight rain left several areas of the outfield unplayable, with umpire James Middlebrook's shoes making an audible squelch as he strolled towards the pavilion to deliver the bad news following one of six pitch inspections.
When the action did finally get underway, with around 50 diehard fans still in the ground, Glamorgan resumed on 55 for 2 in reply to Kent's 307 all out. Just five runs had been added when Quinn knocked back Cooke's off stump in the 25th over, the batsman failing add to his overnight score.
Root initially looked more comfortable, driving Stevens for four through long-off but then surviving an appeal for caught behind off next delivery.
With the light deteriorating the players went off after just 24 minutes and with increasingly heavy rain falling, play was abandoned for the day. A bleak forecast for Sunday means the Group C game is almost certain to end in a draw.
David Hopps writes on county cricket for ESPNcricinfo @davidkhopps
http://www.espncricinfo.com/ci/content/story/1263852.html?ex_cid=OTC-RSS
Recent Match Report – Lancashire vs Northants Group 3 2021
Report
Only 11 overs possible at wet Wantage Road, with Keaton Jennings the batter to fall
Lancashire 75 for 1 vs Northamptonshire
Gareth Berg made the only breakthrough for Northamptonshire as just 11 overs were possible on another rain-affected day of this LV= County Championship tie with Lancashire at Wantage Road.
The evergreen seamer found plenty of bounce and movement and claimed his 20th wicket of the season when he enticed Keaton Jennings to drive loosely at a ball outside off stump and edge through to wicketkeeper Adam Rossington, who took a comfortable catch.
With Jennings departing for 27, Alex Davies was joined by Luke Wells and the pair faced a testing spell from Berg and Ben Sanderson, fresh from their 19-wicket demolition of Sussex two weeks ago. They maintained pressure, beating the bat regularly and making it difficult to score.
Davies did manage to break the shackles briefly by cutting a rare wide one from Sanderson for four and later driving him through midwicket for another boundary. By the time play was called off Lancashire had advanced to 75 for 1 after 28.1 overs.
The start of play was delayed until 2.30pm due to a wet outfield after the whole of the second day was lost to heavy rain. Jennings and Davies were resuming on 59 without loss, their fourth 50 opening stand of the season.
After further interruptions due to showers, the umpires called stumps shortly after 4pm following further rain and hail which turned the outfield white as the players left the field.
http://www.espncricinfo.com/ci/content/story/1263849.html?ex_cid=OTC-RSS
WATCH: Chris Cooke comically bumps into stumps during a County Championship match against Kent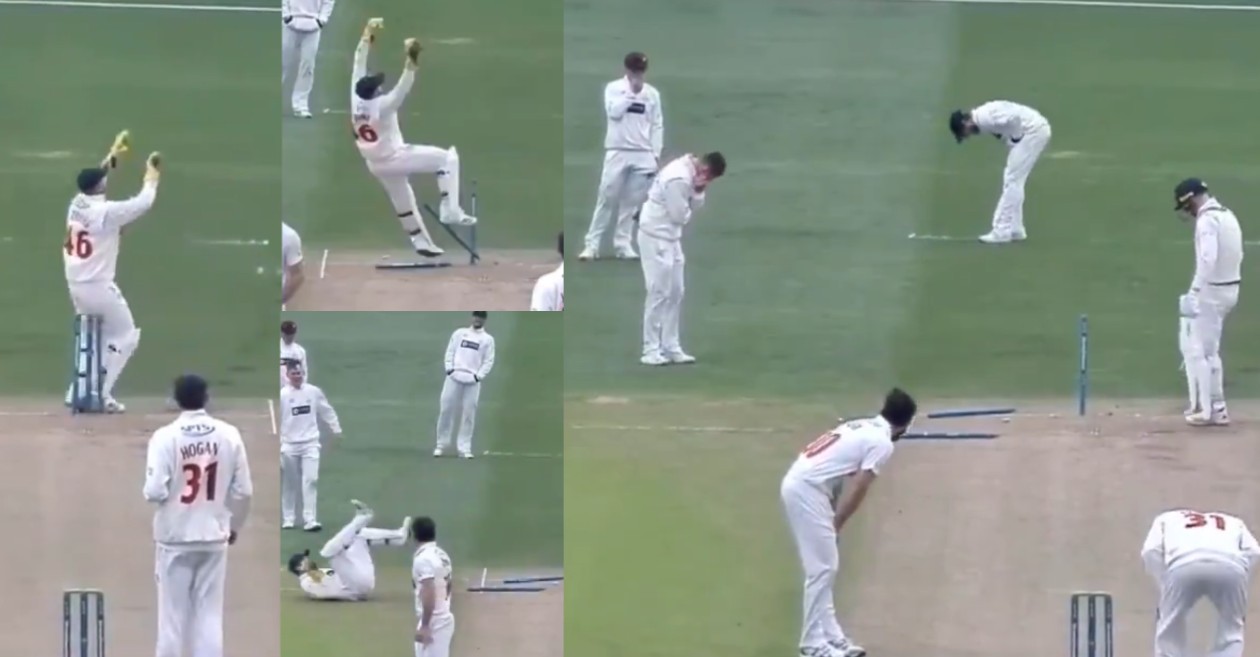 In the ongoing Group 3 match between Kent and Glamorgan of County Championship 2021 at St Lawrence Ground in Canterbury, a funny incident involving Glamorgan wicketkeeper captain Chris Cooke captured everyone's attention.
It all happened in the 28th over of Kent's first innings bowled by Australian pacer Michael Neser. The fast-bowler bowled a short of a good length delivery around the middle and leg stump which was tapped by Sam Billings down to fine leg for a single.
The fielder collected the ball and threw it towards the strikers' end. Cooke, who was standing behind the wickets, quickly came near the stumps to collect the red leather. The throw was a bit off target and while catching the ball, the wicketkeeper ended up crashing over the stumps before falling onto the ground. As soon as Cooke fell, his teammates couldn't control their emotions and burst out in laughter.
Here is the video:
😂😂😂 @Cooky_24!

His teammates enjoyed this one from the skipper!#GoGlam pic.twitter.com/fRGg7si1md

— Glamorgan Cricket 🏏 (@GlamCricket) May 21, 2021
Darren Stevens rescues Kent with a sensational ton
After winning the toss, Glamorgan asked Kent to bat first and bundled them out for 307 runs. 45-year-old Darren Stevens was the main highlight in Kent's innings. The senior lad went on to score 190 from 145 deliveries rescuing his team, which was struggling for 128/8 at one stage.
Stevens formed a 166-run partnership for the 9th wicket with tailender Miguel Cummins, who contributed with just 1 run. It became the highest first-class partnerships in which one player scored more than 90% of the runs.
Stevens smashed 15 fours and as many sixes to score 150 runs by just boundaries out of his total 190 runs knock.
👏👏👏 A standing ovation for Darren Stevens from everyone at @Spitfire_Ground @Stevo208 🏏 #SuperKent pic.twitter.com/81zm2Vh6tr

— Kent Cricket (@KentCricket) May 21, 2021
In reply, Glamorgan have made 55/2 in 19.4 overs before the wet outfield stopped play. Stevens, who shined with the bat, proved his mettle in the bowling as well. The all-rounder dismissed Australian batting sensation Marnus Labuschagne for just 11 runs.
WATCH: Chris Cooke comically bumps into stumps during a County Championship match against Kent