Match Preview – Somerset vs Essex, Bob Willis Trophy 2020 2020, Final
Big Picture
There's an unmissable irony in the ECB's decision to name their emergency first-class competition after the late, great Bob Willis. For Willis was not exactly the most enthusiastic defender of the ancient county system. As a player in his international heyday, he was renowned for phoning in the occasional Warwickshire performance to save his best for England, while in 2003, he was at the forefront of the Cricket Reform Group, a body which argued for the abolition of under-performing counties, and a subsequent reallocation of the game's limited resources.
And yet, when the trophy bearing his name, and adapted from a cubist painting by his widow Lauren, is presented – at a suitably social distance – to the winning captain at Lord's later this week, you can be pretty certain that Willis would be looking down on the occasion with approval.
For this has been a competition to savour in spite of the invidious circumstances. A short, sharp shock of first-class intensity that has satisfied the cravings of county cricket's die-hards, while giving a platform for the sort of conference system that Willis himself might have advocated. Certainly the notion of less-is-more is one that has traditionally been associated with Australia's Sheffield Shield (six teams, ten matches, one final) – not least during Australia's years of Ashes dominance in the 1990s and early 2000s – and while it would knee-jerk to suggest that the Bob Willis Trophy has provided a clear vision for the future of county first-class cricket, it would be remiss to ignore the buzz of interest that the format has created among those who find the marathon nature of the traditional league structure a touch too archaic for the 2020s.
Yes, it's been an imperfect competition, devised to fit a limited timeframe and featuring a messy qualification process in which three into two didn't go very easily, especially once the Covid-influenced cancellation of Northamptonshire's match with Gloucestershire had complicated the permutations. And yet, there was a pleasingly meritocratic thread to the available results – with a defiant upending of preconceptions in the first instance, as just one Test-hosting county, Yorkshire, finished in the top two of any of the three groups, followed by a worthy progression of the era's two outstanding teams to the showpiece final at Lord's.
Essex and Somerset, the cream of the crop, were involved in last summer's de facto showpiece too – a Championship final-round arm-wrestle on a Ciderabad special in Taunton, in which Essex did just enough to prevent their hosts from leapfrogging them to the title, with Alastair Cook reprising the dour survival methods honed at Ahmedabad and Mumbai to close out the contest with 83 preciously hewn runs in two innings.
Somerset's subsequent penalisation for a substandard pitch may have rendered that performance moot, but even that slap on the wrist – and their 12-point penalty, deferred to 2021 – comes with a curious footnote. Despite attracting opprobrium for tailoring their tracks to turn square (and in the process producing England's two frontline Test spinners – yes, you are welcome), their path to this year's glory-shot has been carved by their outstanding battery of fast bowlers – which suggests they may just be a quality outfit, irrespective of conditions.
More's the pity, therefore, that in a summer which was meant to offer a reconnection of cricket to its ostracised fans, it has not been possible to find a place for this contest in the TV schedules. The fact that Lord's is a building site, amid the reconstruction of the Compton and Edrich Stands is a further factor. Sky Sports' YouTube channel will have to suffice.
For Essex in particular, this week offers their squad a shot at county immortality, a chance to confirm a dynasty to rival the heyday of their Gooch-Fletcher era in the 1980s, and to take its place in the recent county pantheon, alongside Jason Gillespie's Yorkshire squad of the mid 2010s, and the Durham and Sussex outfits that won three Championships in quick succession since the turn of the Millennium.
And at a time when the ECB is casting an understandably beady eye on its counties' connections with their grass-roots, there can be no quibbling with the quality of Essex's homegrown credentials. Seven members of the first-team squad were born in the same Whipps Cross hospital as the club grandee, Gooch, while 70 percent were educated at state school too. Their two key imports, Ryan Ten Doeschate and Simon Harmer, have rapidly assumed legend status in and around Chelmsford. They are advocates for a system that works, no matter what the naysayers may believe.
As for Somerset, there would be few feats more typical of the county than finally claiming that elusive first-class crown in the one season that is destined to carry an asterisk.
Every year that goes by, it seems less and less likely that Somerset will be able to land the prize that torments them the most – especially given the quality of the players they have lost since they first rose to become true contenders ten years ago. Marcus Trescothick and Peter Trego, local legends both, have moved on, to retirement and to Nottinghamshire respectively, while next season their bowling stocks will be shorn of both Jamie Overton and Dom Bess.
And yet, Somerset too draw a strong local thread through their playing XI – the captain, Tom Abell and senior spinner, Jack Leach, are Taunton born-and-bred, while one of the brightest stars of the current campaign, the young opener Tom Lammonby, has been rustled over the border from Devon. They've got a West Country catchment area that promises recruitment and renewal for as long as their standards remain as high as they have been. But there's little doubt that some silverware wouldn't go amiss.
Form guide
(last five completed matches)
Essex WDWWW
Somerset WWDWW
In the spotlight
Simon Harmer's impact at Essex has been nothing short of talismanic in the four years since he arrived at Chelmsford. He's amassed 251 first-class wickets at 19.32 in that time, with 20 five-wicket hauls and five ten-fors, to provide the final stamp of class in the county's two Championship-winning seasons in three years. And that's excluding his starring role as captain of last season's T20 Blast-winning outfit. In this truncated BWT campaign, however, he's been more incisive than ever, his 34 wickets including a best of 8 for 64 against Surrey that was completed in spite of an abductor strain. In another era he would surely be a fixture in South Africa's Test team – and at the age of 31, he claims not to have given up hope of adding to his five Test caps, in spite of several smouldering bridges in his wake – but this opportunity to play a high-stakes five-day match at Lord's will stoke his competitive fires like few other challenges.
His brother Jamie is reputed to be the fastest bowler in the family, but there's something about Craig Overton's spirit for a scrap that has nudged him ahead in the pecking order – both at county level, where Jamie has been forced to seek pastures new at Surrey, and for England, who value the tenacity he has shown in four under-rewarded Test appearances to date, and clearly have him earmarked for a spear-carrier's role in next year's Ashes. But in Somerset's romp to the BWT final, Overton has shown himself to be more than just a willing toiler. His 28 wickets at 10.71 have provided the pointy tip of a spear that has conceded more than 200 just once in five games.
Team news
Essex's squad is broadly settled, with ten of the first-choice XI having played four or more of the five group-stage games. This includes the bolter in this season's campaign, Paul Walter at the top of the order, who took his initial chance when ten Doeschate succumbed to injury, and has latterly cemented his role as Alastair Cook's partner in the absence of Nick Browne. Browne's experience may count for something come Lord's, but so do Walter's numbers – an average of 49.00 and a top-score of 46 point to admirable consistency, especially against a seam attack of Somerset's quality.
Essex (possible) 1 Alastair Cook, 2 Paul Walter, 3 Tom Westley (capt), 4 Dan Lawrence, 5 Feroze Khushi, 6 Ryan ten Doeschate, 7 Adam Wheater (wk), 8 Simon Harmer, 9 Aaron Beard, 10 Sam Cook, 11 Jamie Porter.
James Hildreth's absence with a hamstring injury is a grievous loss to his county, not to mention a cruel turn of events for one of English cricket's great forgotten batsmen. At the age of 36, this might have been the closest to a Lord's Test that he was ever going to come. Jack Leach's availability post-England bubble means that, of the 13 players named in their squad, Roelof van der Merwe is liable to be squeezed out despite featuring in four of Somerset's group-stage games. Dom Bess, England's No.1 spinner but Somerset's No.2, may also miss the chance to say an on-field farewell to his club, ahead of his permanent move to Yorkshire next season.
Somerset (possible) 1 Ben Green, 2 Tom Lammonby, 3 Tom Abell (capt), 4 George Bartlett, 5 Eddie Byrom, 6 Steven Davies (wk), Lewis Gregory, 8 Craig Overton, 9 Josh Davey, 10 Jack Brooks, 11 Jack Leach
Pitch and conditions
As the ground's first and only first-class fixture for 2020, there will be an inevitable sense of the unknown to this surface, even if Lord's wickets have tended to be predictably flat in recent seasons, influenced no doubt by the extraordinary moisture mainlining of the under-soil drainage system. The central strip, allocated for last summer's Ashes Test, has been allocated, and Somerset's captain, Tom Abell, was excited about what it would offer. Either way, it is a venue where teams have traditionally looked up, rather than down, when assessing their prospects. On that score, the first two days of the match promise typically autumnal mixtures of sun and showers, although the weekend outlook is more settled.
Stats and Trivia
Essex are aiming for their fourth first-class trophy in five seasons, after winning the second division title in 2016, followed by County Championships in 2017 and 2019.

Somerset are one of three counties, along with Northamptonshire and Gloucestershire, never to have won the County Championship. They have finished as runners-up five times since 2010, including in three of the last four seasons.

Somerset were the victors on the previous occasion that a trophy was at stake at Lord's – the 2019 Royal London Cup, in which they beat Hampshire by six wickets in the tournament's final staging.

Sam Cook is one wicket short of 100 first-class scalps.

The final will be staged in association with Prostate Cancer UK. Willis died of the disease, aged 70, in December last year.
Quotes
""The best two teams in the country have reached the final. As things stand, Essex are the number one red-ball team and we are number two. It would be great to reverse those standings and that is the aim."
Jason Kerr, Somerset's coach, is eager to upset the prevailing order of county cricket.
This story has been sourced from a third party syndicated feed, agencies. Cricket Galiyara accepts no responsibility or liability for its dependability, trustworthiness, reliability, and data of the text. DigitalGaliyara (OPC) Private Limited management reserves the sole right to alter, delete, or remove (without notice). If you have any concerns with the Content, then please write to us at the mail@digitalgaliyara.com
Recent Match Report – Kent vs Glamorgan Group 3 2021
Report
Matt Quinn claimed the third Glamorgan wicket to fall but only 6.2 overs were possible
Glamorgan 64 for 3 trail Kent 307 by 243 runs
Glamorgan moved to 64 for 3 against Kent on day three of their LV= Insurance County Championship match at Canterbury, trailing by 243 at stumps after just 6.2 overs were possible due to a waterlogged outfield and then bad light.
Matt Quinn took the only wicket to fall, removing Joe Cooke for 10, leaving him with figures of 2 for 10. Billy Root and Kiran Carlson were the not out batsmen, on 26 and nought respectively.
Play was delayed until 5.19 pm after heavy overnight rain left several areas of the outfield unplayable, with umpire James Middlebrook's shoes making an audible squelch as he strolled towards the pavilion to deliver the bad news following one of six pitch inspections.
When the action did finally get underway, with around 50 diehard fans still in the ground, Glamorgan resumed on 55 for 2 in reply to Kent's 307 all out. Just five runs had been added when Quinn knocked back Cooke's off stump in the 25th over, the batsman failing add to his overnight score.
Root initially looked more comfortable, driving Stevens for four through long-off but then surviving an appeal for caught behind off next delivery.
With the light deteriorating the players went off after just 24 minutes and with increasingly heavy rain falling, play was abandoned for the day. A bleak forecast for Sunday means the Group C game is almost certain to end in a draw.
David Hopps writes on county cricket for ESPNcricinfo @davidkhopps
http://www.espncricinfo.com/ci/content/story/1263852.html?ex_cid=OTC-RSS
Recent Match Report – Lancashire vs Northants Group 3 2021
Report
Only 11 overs possible at wet Wantage Road, with Keaton Jennings the batter to fall
Lancashire 75 for 1 vs Northamptonshire
Gareth Berg made the only breakthrough for Northamptonshire as just 11 overs were possible on another rain-affected day of this LV= County Championship tie with Lancashire at Wantage Road.
The evergreen seamer found plenty of bounce and movement and claimed his 20th wicket of the season when he enticed Keaton Jennings to drive loosely at a ball outside off stump and edge through to wicketkeeper Adam Rossington, who took a comfortable catch.
With Jennings departing for 27, Alex Davies was joined by Luke Wells and the pair faced a testing spell from Berg and Ben Sanderson, fresh from their 19-wicket demolition of Sussex two weeks ago. They maintained pressure, beating the bat regularly and making it difficult to score.
Davies did manage to break the shackles briefly by cutting a rare wide one from Sanderson for four and later driving him through midwicket for another boundary. By the time play was called off Lancashire had advanced to 75 for 1 after 28.1 overs.
The start of play was delayed until 2.30pm due to a wet outfield after the whole of the second day was lost to heavy rain. Jennings and Davies were resuming on 59 without loss, their fourth 50 opening stand of the season.
After further interruptions due to showers, the umpires called stumps shortly after 4pm following further rain and hail which turned the outfield white as the players left the field.
http://www.espncricinfo.com/ci/content/story/1263849.html?ex_cid=OTC-RSS
WATCH: Chris Cooke comically bumps into stumps during a County Championship match against Kent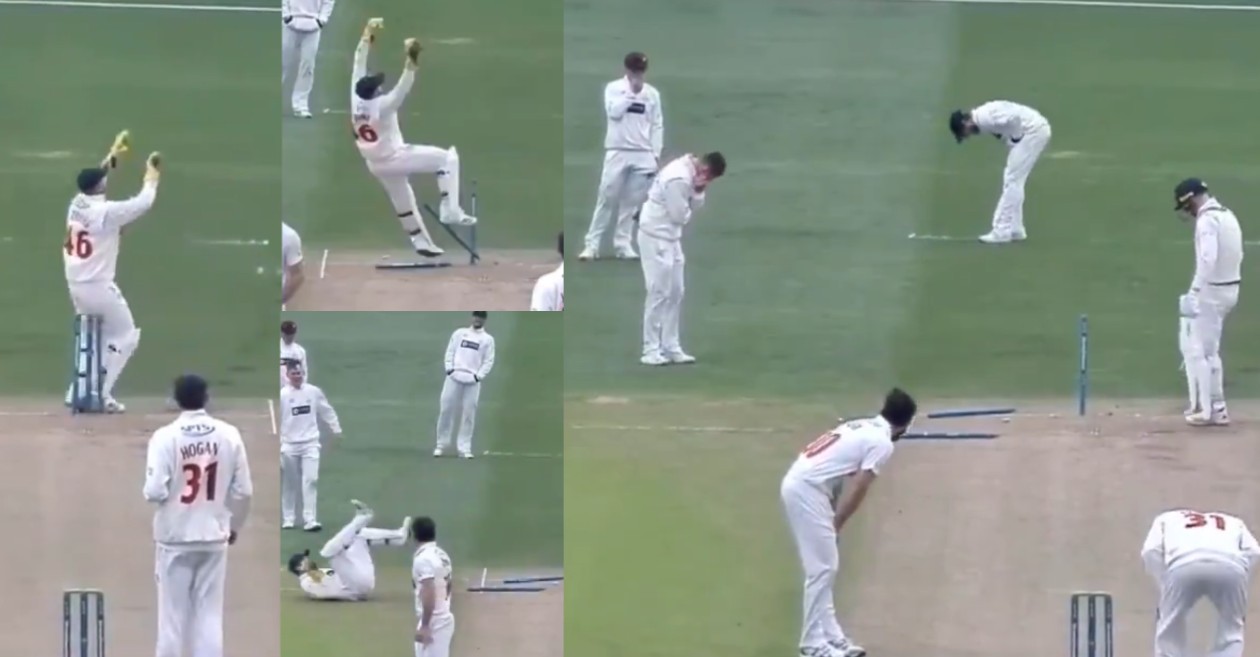 In the ongoing Group 3 match between Kent and Glamorgan of County Championship 2021 at St Lawrence Ground in Canterbury, a funny incident involving Glamorgan wicketkeeper captain Chris Cooke captured everyone's attention.
It all happened in the 28th over of Kent's first innings bowled by Australian pacer Michael Neser. The fast-bowler bowled a short of a good length delivery around the middle and leg stump which was tapped by Sam Billings down to fine leg for a single.
The fielder collected the ball and threw it towards the strikers' end. Cooke, who was standing behind the wickets, quickly came near the stumps to collect the red leather. The throw was a bit off target and while catching the ball, the wicketkeeper ended up crashing over the stumps before falling onto the ground. As soon as Cooke fell, his teammates couldn't control their emotions and burst out in laughter.
Here is the video:
😂😂😂 @Cooky_24!

His teammates enjoyed this one from the skipper!#GoGlam pic.twitter.com/fRGg7si1md

— Glamorgan Cricket 🏏 (@GlamCricket) May 21, 2021
Darren Stevens rescues Kent with a sensational ton
After winning the toss, Glamorgan asked Kent to bat first and bundled them out for 307 runs. 45-year-old Darren Stevens was the main highlight in Kent's innings. The senior lad went on to score 190 from 145 deliveries rescuing his team, which was struggling for 128/8 at one stage.
Stevens formed a 166-run partnership for the 9th wicket with tailender Miguel Cummins, who contributed with just 1 run. It became the highest first-class partnerships in which one player scored more than 90% of the runs.
Stevens smashed 15 fours and as many sixes to score 150 runs by just boundaries out of his total 190 runs knock.
👏👏👏 A standing ovation for Darren Stevens from everyone at @Spitfire_Ground @Stevo208 🏏 #SuperKent pic.twitter.com/81zm2Vh6tr

— Kent Cricket (@KentCricket) May 21, 2021
In reply, Glamorgan have made 55/2 in 19.4 overs before the wet outfield stopped play. Stevens, who shined with the bat, proved his mettle in the bowling as well. The all-rounder dismissed Australian batting sensation Marnus Labuschagne for just 11 runs.
WATCH: Chris Cooke comically bumps into stumps during a County Championship match against Kent