'Revolutionary' Dean Jones was coming back into the Australia fold
Dean Jones was lost to Australian cricket just when it appeared as though his occasionally fraught relationship with the leadership of the game had moved towards more constructive and collaborative territory.
In mourning Jones' sudden loss at the age of 59 and his rich legacy as a cricketer, Australia's coach Justin Langer revealed that he had been seriously discussing how to involve the Victorian more closely with the national team as a mentor, particularly around T20 series in the run up to next year's World Cup in India.
Such an arrangement would have been different for Jones, who spent much of his life after playing as an inveterate outsider, proud of his opinions and status as a figure beloved by the public but not always close to officialdom. This was certainly the case at Cricket Victoria, where Jones had been passed over for several coaching jobs and recently asked to have his name removed from a trophy at CV's annual awards night.
ALSO READ: Thank you, Deano, for the many moments and memories
"You could tell he was passionate about the game, he was passionate about helping people," Langer said from Adelaide. "He's helped me as the Australian coach over the last few years. In fact, as you know we've had Steve Waugh, Ricky Ponting, Mike Hussey, and it was only a few weeks ago I was talking about getting Deano in to help us with our T20 World Cup stuff as one of those mentor coaches.
"They have strong opinions. You don't bring someone in who doesn't have a view. And we keep talking about it. In the Australian cricket, we talk about who's going to be our next Dean Jones, who's going to be our next Michael Bevan, our next Michael Hussey, who's going to be the Dhoni for us, or the Jos Buttler for us, and Dean Jones is one of those people.
"He could have brought so much for us. To be completely honest, I thought about it. Sadly, that's not going to happen but the things I've learnt from him and the legacy he leaves to Australian cricket and cricketers won't be lost on us."
There had been one major public acknowledgement of Jones' significance to Australian cricket when he was inducted to the Hall of Fame last year. It was a ceremony that he was unable to attend due to a coaching commitment with the PSL, and a garland that left him feeling not entirely sure how comfortable he was with that kind of establishment acceptance after years as a "people's hero", as much for his entertaining and outspoken ways as for the runs he scored over a decade in international cricket.
"One thing about Dean Jones is there are not many players who really revolutionised the game," Langer said. "You think about maybe Warnie, you think about Adam Gilchrist and you think about Dean Jones with one-day cricket, the way his running between the wickets, his athleticism and the way he took on the game. So, those are my memories of Deano. And of course his 200 in Madras, it's almost part of legend in Australian Test cricket, in the brotherhood of the Baggy Green, his 200 and the way he batted with AB. It's the stuff of legend.
"Oakley sunglasses back then with Jonesy, like I say revolutionised the game. And now it's very, very rare for a player not to wear glasses. I know we did that boot camp with the Australian team just before the Ashes in 2007 and I swear to God, one luxury I missed the most was my sunglasses and I didn't even know what sunglasses were before Jonesy came along. There you go, another part of the Dean Jones legacy."
Langer reflected on how Jones was a hero, then one of his many rivals in the crowded queue for batting spots in the Australian Test team in the mid-1990s, before later becoming more of a fatherly, mentoring hand in recent times. There were, Langer said, "awkward moments" where it was "almost embarrassing" to be gunning for such a spot. Nevertheless, he had a vivid recollection of how Jones showed him the way, both on the field and off it, during his debut Sheffield Shield match at the WACA Ground in 1991.
"I'll never forget, he got dropped on 1 or 2 and ended up getting 200. It was a sort of a philosophy I've taken with me ever since … that you never ever give a great player a chance," Langer said. "It's amazing, and throughout my career I think about the amount of times a great player was dropped early and went on to score a hundred and have a big impact against you.
"I also remember that night, he was sitting in the change-room with Marto [Damien Martyn] and myself. He's going 'boys if you ever get a chance to get to a hundred, I don't care, if you get into the nineties, I don't care whether you're in the nineties for two hours but in life you don't get too many chances to get a hundred. So when you do, make sure you get a hundred." And they are the sort of mentoring advice that I've always taken with Jonesy. His take on the game, when you get a chance to get a hundred, get a hundred and you never drop good players because if you do, they always hurt you in the end.
"He became more of a fatherly figure down the track. At the time, we'd watched him in that period leading into our first-class debuts. And he was just something else wasn't he? Because of his energy, his strut and the way he took on Ambrose, like it often happens with younger players, he's like our hero and we go wow what do we expect here. And he was a competitor, he was intimidating, he was tough. But over time, like I mentioned that time at the MCG, when he gave us that advice about always scoring a hundred."
Innovator. Entertainer. Professor. Icon.

Rest in peace, Dean Jones. pic.twitter.com/aIPKUmodwk

— ICC (@ICC) September 24, 2020
As much as Jones' death has left the cricket universe wishing for more chances to reflect on his contribution and thank him for it, Langer confided that he had at least been able to take in a long lunch alongside Tom Moody, Geoff Marsh and Adam Gilchrist earlier this year, where they spoke to all the other members of the victorious 1989 Ashes tour together via video conference. Jones was in the thick of the reminiscences.
"We had one of the great days of the Covid period a few months ago. I had lunch at Tom Moody's house, who I spoke to last night, with Geoff Marsh and Adam Gilchrist, one of the great afternoons of our lives," Langer said. "During that time we FaceTimed everyone from the 1989 Ashes tour and Jonesy was one of them. It was one of the great afternoons.
"It's the great thing about playing cricket, you forge friendships and that's why the cricket world will be so sad generally but also his mates. Because that afternoon made me realise why I loved playing cricket for Australia so much. We were talking to Allan Border and Carl Rackemann, and Tim May in America, the list goes on. Jonesy's reply was 'thank you so much for thinking of me. I'm so jealous. I wish I was there with you guys'. That sums Jonesy up in the last few years particularly.
"Deano was bigger than life. I think at the end of the day, that word Legend; Deano Legend. He'd love to be remembered as someone who was passionate about the game of cricket, passionate not just about Australian cricket but the game of cricket. He probably called himself the Ledge. We all called him the Ledge. That's how he'll like to be remembered."
This story has been sourced from a third party syndicated feed, agencies. Cricket Galiyara accepts no responsibility or liability for its dependability, trustworthiness, reliability, and data of the text. DigitalGaliyara (OPC) Private Limited management reserves the sole right to alter, delete, or remove (without notice). If you have any concerns with the Content, then please write to us at the mail@digitalgaliyara.com
Recent Match Report – Kent vs Glamorgan Group 3 2021
Report
Matt Quinn claimed the third Glamorgan wicket to fall but only 6.2 overs were possible
Glamorgan 64 for 3 trail Kent 307 by 243 runs
Glamorgan moved to 64 for 3 against Kent on day three of their LV= Insurance County Championship match at Canterbury, trailing by 243 at stumps after just 6.2 overs were possible due to a waterlogged outfield and then bad light.
Matt Quinn took the only wicket to fall, removing Joe Cooke for 10, leaving him with figures of 2 for 10. Billy Root and Kiran Carlson were the not out batsmen, on 26 and nought respectively.
Play was delayed until 5.19 pm after heavy overnight rain left several areas of the outfield unplayable, with umpire James Middlebrook's shoes making an audible squelch as he strolled towards the pavilion to deliver the bad news following one of six pitch inspections.
When the action did finally get underway, with around 50 diehard fans still in the ground, Glamorgan resumed on 55 for 2 in reply to Kent's 307 all out. Just five runs had been added when Quinn knocked back Cooke's off stump in the 25th over, the batsman failing add to his overnight score.
Root initially looked more comfortable, driving Stevens for four through long-off but then surviving an appeal for caught behind off next delivery.
With the light deteriorating the players went off after just 24 minutes and with increasingly heavy rain falling, play was abandoned for the day. A bleak forecast for Sunday means the Group C game is almost certain to end in a draw.
David Hopps writes on county cricket for ESPNcricinfo @davidkhopps
http://www.espncricinfo.com/ci/content/story/1263852.html?ex_cid=OTC-RSS
Recent Match Report – Lancashire vs Northants Group 3 2021
Report
Only 11 overs possible at wet Wantage Road, with Keaton Jennings the batter to fall
Lancashire 75 for 1 vs Northamptonshire
Gareth Berg made the only breakthrough for Northamptonshire as just 11 overs were possible on another rain-affected day of this LV= County Championship tie with Lancashire at Wantage Road.
The evergreen seamer found plenty of bounce and movement and claimed his 20th wicket of the season when he enticed Keaton Jennings to drive loosely at a ball outside off stump and edge through to wicketkeeper Adam Rossington, who took a comfortable catch.
With Jennings departing for 27, Alex Davies was joined by Luke Wells and the pair faced a testing spell from Berg and Ben Sanderson, fresh from their 19-wicket demolition of Sussex two weeks ago. They maintained pressure, beating the bat regularly and making it difficult to score.
Davies did manage to break the shackles briefly by cutting a rare wide one from Sanderson for four and later driving him through midwicket for another boundary. By the time play was called off Lancashire had advanced to 75 for 1 after 28.1 overs.
The start of play was delayed until 2.30pm due to a wet outfield after the whole of the second day was lost to heavy rain. Jennings and Davies were resuming on 59 without loss, their fourth 50 opening stand of the season.
After further interruptions due to showers, the umpires called stumps shortly after 4pm following further rain and hail which turned the outfield white as the players left the field.
http://www.espncricinfo.com/ci/content/story/1263849.html?ex_cid=OTC-RSS
WATCH: Chris Cooke comically bumps into stumps during a County Championship match against Kent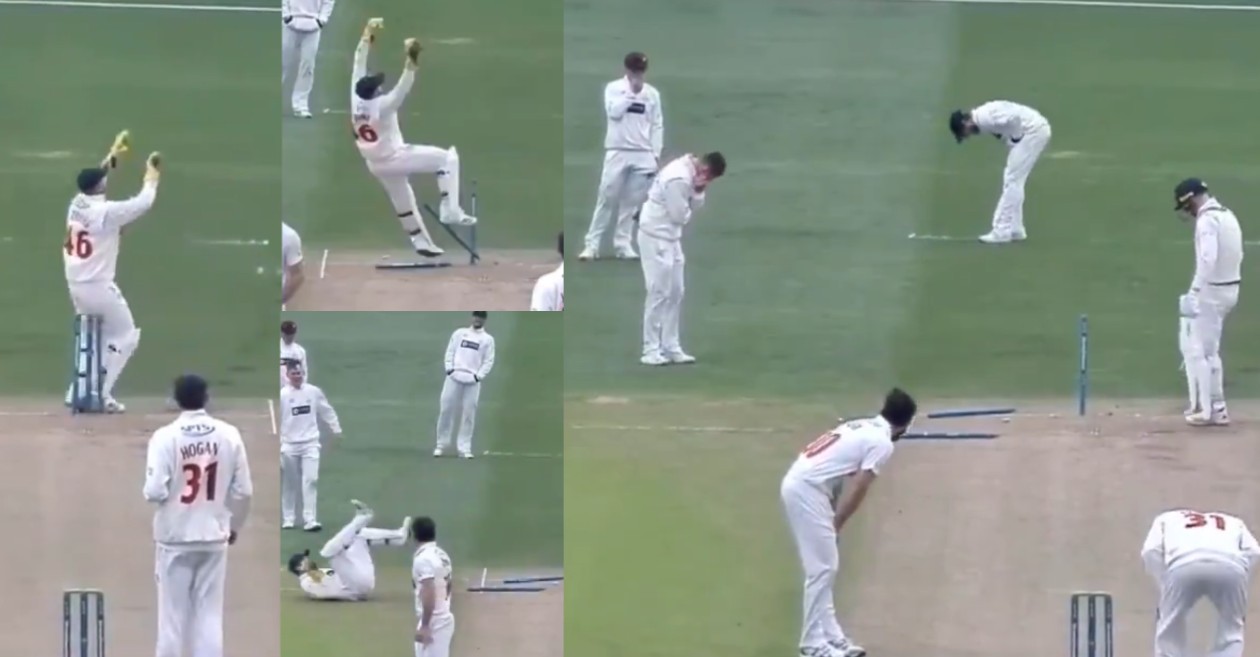 In the ongoing Group 3 match between Kent and Glamorgan of County Championship 2021 at St Lawrence Ground in Canterbury, a funny incident involving Glamorgan wicketkeeper captain Chris Cooke captured everyone's attention.
It all happened in the 28th over of Kent's first innings bowled by Australian pacer Michael Neser. The fast-bowler bowled a short of a good length delivery around the middle and leg stump which was tapped by Sam Billings down to fine leg for a single.
The fielder collected the ball and threw it towards the strikers' end. Cooke, who was standing behind the wickets, quickly came near the stumps to collect the red leather. The throw was a bit off target and while catching the ball, the wicketkeeper ended up crashing over the stumps before falling onto the ground. As soon as Cooke fell, his teammates couldn't control their emotions and burst out in laughter.
Here is the video:
😂😂😂 @Cooky_24!

His teammates enjoyed this one from the skipper!#GoGlam pic.twitter.com/fRGg7si1md

— Glamorgan Cricket 🏏 (@GlamCricket) May 21, 2021
Darren Stevens rescues Kent with a sensational ton
After winning the toss, Glamorgan asked Kent to bat first and bundled them out for 307 runs. 45-year-old Darren Stevens was the main highlight in Kent's innings. The senior lad went on to score 190 from 145 deliveries rescuing his team, which was struggling for 128/8 at one stage.
Stevens formed a 166-run partnership for the 9th wicket with tailender Miguel Cummins, who contributed with just 1 run. It became the highest first-class partnerships in which one player scored more than 90% of the runs.
Stevens smashed 15 fours and as many sixes to score 150 runs by just boundaries out of his total 190 runs knock.
👏👏👏 A standing ovation for Darren Stevens from everyone at @Spitfire_Ground @Stevo208 🏏 #SuperKent pic.twitter.com/81zm2Vh6tr

— Kent Cricket (@KentCricket) May 21, 2021
In reply, Glamorgan have made 55/2 in 19.4 overs before the wet outfield stopped play. Stevens, who shined with the bat, proved his mettle in the bowling as well. The all-rounder dismissed Australian batting sensation Marnus Labuschagne for just 11 runs.
WATCH: Chris Cooke comically bumps into stumps during a County Championship match against Kent